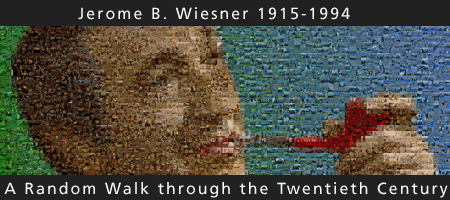 Description:
Done in 1996 by Golrianna Davenport's MIT Media Lab on interactive cinema, this project is part of the "evolving documentary" genre.
Here is the description that is given in the interactive cinema website:
This hyper-portrait introduces the audience to a remarkable man whose life centered on science, government, education and issues of cultural humanism. Early in his career, Jerome Wiesner developed an audio recording laboratory at the Library of Congress and travelled extensively throughout America, capturing folk music by native performers.
He directed MIT's Research Lab for Electronics during the Cold War, served as National Science Advisor to John F. Kennedy, and eventually became President of MIT. After the end of World War II, Wiesner became a prominent advocate of disarmament and was a key player in negotiating the first Nuclear Test Ban Treaty.
In this hyper portrait (which runs on the World Wide Web), we invite viewers to explore the Twentieth Centurey through an extensible collection of stories about and recollections by the central figure. We also invite viewers who knew JBW to share a memorable story with our growing society of audience.
Find out more:
Browse through the B.Wieser project.
More about MIT Media Lab's Interactive Cinema
More about Davenport's latest work: Media Fabrics
My comments:
This is a very well known project, but it does not seem to work on my computer so I have never really browsed through it.
Any comments are welcomed…
This entry was posted on Tuesday, March 12th, 1996